Sometimes our breaks from work are as important as the brakes on our trucks!! Many of us go long periods of time without rest from our normal everyday tasks. That is when it's best to do a break check. 
Taking a break every once in a while gives you the ability to regroup and rejuvenate. It allows you to find new energy and break patterns of boredom and stress. Getting away for a few days could make a huge difference in your performance and also your outlook on life! Taking some time for yourself can clear your head and open yourself up to new ideas and strategies. Spending time with family and friends is very important and strengthens relationships… all work and no play makes Jack a dull boy, no one wants to hang out with a dull boy!
As Americans, we feel the pressure to keep pushing and this causes a lot of us to either burn-out or just "go through the motions".
Break Check is a series of blogs that will be periodically released about my time away from the shop, or maybe another person's adventure – maybe yours! There should be a work-life balance and sometimes we forget that. I personally struggle with taking time off and when I do take some time I like doing things that are exciting or constructive. I can only lay around so long before I get bored. Many of my breaks involve traveling to other shops and businesses to see how others live, work and play. Some breaks are to chill, play golf or ski.
About 11 years ago I was approached by a management training and consulting company that was specifically designed to help educate automotive shop owners. Most shop owners, like myself, are eager entrepreneurs but have no formal business training. They start as great technicians but learn that fixing cars and trucks is not the same as running a business! Drive/Management Success teaches shop owners better ways to organize and run their businesses, which in turn improves their lives and their customer's experience. The company is located in Southern California and works with shops around the US, Canada and a few foreign countries.
The beauty of working with a company that reaches so far is that you meet and work with shop owners from many different places and have the opportunity to travel and visit those people and their shops to share ideas, talk each other off the cliffs and make our lives better.
Since joining this group I have traveled to, Glendale Ca, Albuquerque NM, Phoenix and Scottsdale Az, Denver and Colorado Springs Co, Tacoma Wa, Dallas and Houston Tx, Orlando Fl, Boston Ma, Effingham Il, Chicago Il and I'm sure I'm forgetting more… but I have seen many shops and their operations. I have gotten to know many shop owners and share information that make all of our lives better while improving the experience we give our customers. These are all high level shops that go above and beyond to educate themselves and have very high standards. One of the shop owners that I have met is Badar Mansoor. Badar owns several very successful auto repair shops in the middle east country of Oman. Oman is located on the Persian Gulf at the North East end of the Saudi Peninsula.
Until I met Badar I did not know where Oman was, but the way he spoke about it I had a feeling it was a special place.
2 months ago Badar invited me and a few other shop owners to come and visit his country.
I recognized this as an opportunity to see things and go places that I would normally never have a chance to experience. It was a no-brainer for adventurous me, I'm in! I didn't know any details other than getting to the Muscat, Oman airport and Badar would take it from there. I went home to tell my wife Cindy and her immediate response was "I want to go too"! 
Cindy is also adventurous. She and a friend jumped in with a group that traveled to Egypt several years ago and definitely wanted in on this trip.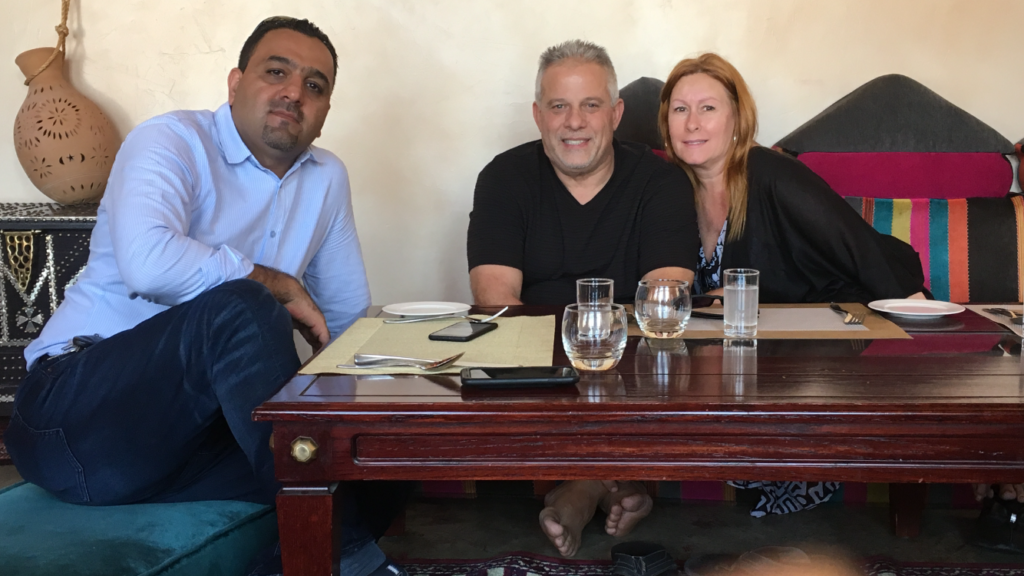 So what do you think when someone says that they want to travel to the Middle East? These are some of the comments I received:
-Are you crazy?   -You better be careful.  -Don't you watch the news?
-They could abduct your wife. -What if you're taken hostage?  -They put people in prisons and they are never seen again.
-Did you make sure your will is up to date?   -If they see any of your wife's skin she will be
arrested.  -They hate Americans, what are you going to wear so that you blend in?
And on and on…..
The Middle East is not one country, yes there are countries that are struggling and there are areas to avoid but lumping the whole middle east together is like saying that all of America is as dangerous as West Chicago!
So the day came to head to JFK airport and travel East. We had a 14-hour flight to a country named Qatar and then had to switch planes for the 2-hour flight to Muscat, Oman.  I was concerned about the change of planes in Qatar. How would we navigate through a small foreign airport where they only speak Arabic and we are dressed funny, this made me nervous.
Qatar Airlines offers, for $85 a person, to have a rep meet you getting off your plane and bring you to your next flight… I'm in!
Ok, so I was wrong. Qatar Airport was gorgeous and everyone spoke English! The rep was so nice and whisked us through elevators, trams, elevators, escalators, security, and right onto our connecting flight. What I didn't realize when I booked this extra service was that this airport was massive and there was no way we would have made it to our connecting flight in the 45 minutes we had!!  Sometimes I'm just lucky!
So my erroneous stereotype of the Middle East continued as we got off the plane in Muscat. The airport was by far the nicest I have ever been to. We had to check in and get Visa's, we had to go through customs… every person and every government employee was beyond courteous and helpful. All I could think about was all the comments people made when I said we were traveling to the Middle East and how wrong, so far.
Other shop owners, invited by Badar, met us in Oman. Kate Jonasse, owner of multiple shops in Northern Cal. Jim Anderson, shop owner and instructor at Drive from Iowa. Steve Taylor, multiple shop owner from Texas and Phil Webster – shop and dealership owner from Illinois.
Our host Badar went all out for us and was very excited to show off his country. It didn't take long for us to see why he was so proud. Badar made all our hotel and travel arrangements making sure we were always on the move and seeing spectacular places. First we visited Badar's auto repair shops. They were very large with approximately 80 employees between the 2 larger locations, satellite shops and the blueprints for another large shop on the back seat of his truck. All his shops were busy and running like clockwork enabling him to hang with us without worry.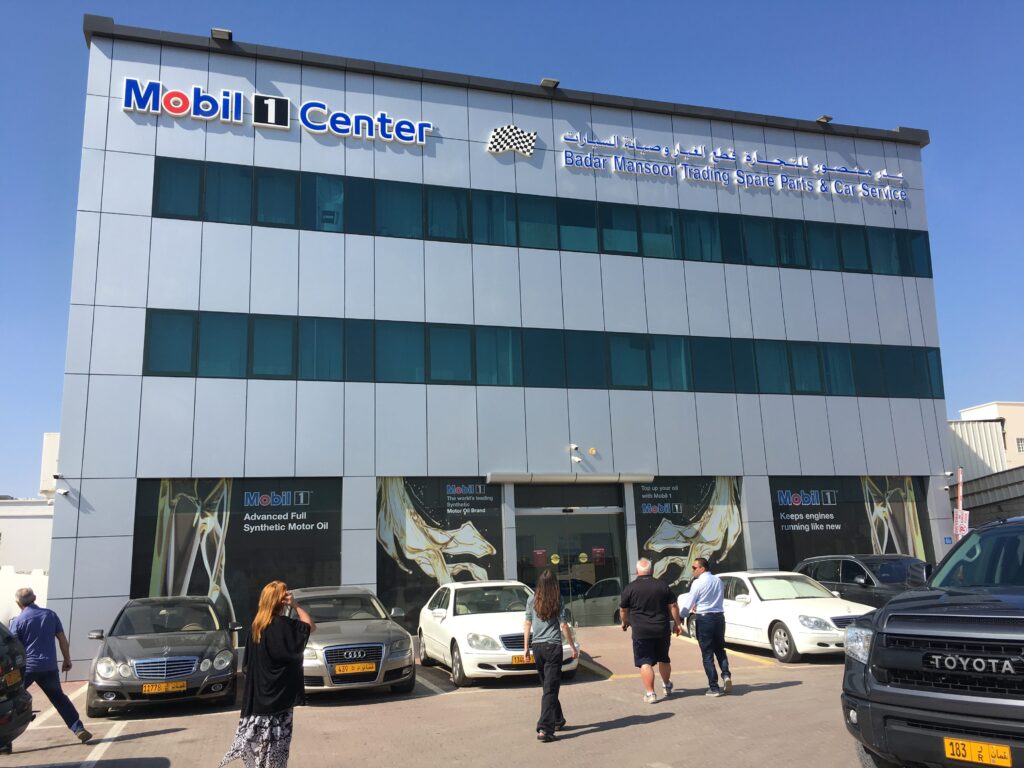 Over the next 8 days…
We stayed in beautiful hotels. We went to the old city area and had an authentic lunch. When you eat authentically you generally sit on the floor on pillows, I suggest you work on flexibility before you sit like this, I struggled. We went to the old market and walked through shops that were hundreds of years old. Then we took a ride past the Sultan's yachts, ocean liners- not yachts, and saw the old palace which is magnificent.
We attended a livestock auction and market where Cindy sat with the local men drinking coffee and eating dates. Cindy almost got trampled by a bull, but that's a story for another day, these are not mechanical bulls at Disney…. Be ready to move!. Unlike some other countries and contrary to our friend's pre-trip comments, the women were treated warmly on our whole trip.
We headed to the desert and drove 30 miles in. The dunes were crazy high and our brave drivers (crazy drivers) took some shots at scaling them. Jim Anderson in all his glory did really well here! There were some dunes we made it up and some that we didn't, it was very exciting. (By exciting, I mean scared shitless).
We were set up to have lunch in the desert with some local Bedouins. Bedouins are nomadic people who populate the desert and still live as they have forever. They are more settled now because they don't have the need to constantly move to find food and water but they basically live the same. We sat in their hut and were served a delicious lunch starting with fruits, vegetables and the most delicious chicken I ever had. The BBQ beef on a skewer was a little chewy but well seasoned. We didn't ask about the beef because we couldn't communicate with the Bedouin women who spoke no English, but after we were done eating and Badar inquired in Arabic I found out that I had eaten Camel for the first time! (It didn't taste like Chicken). Again, learn to sit Indian style if you lunch in huts, stretch!
After leaving the desert we traveled into one of many mountainous regions and stayed at the most amazing hotel. It took about an hour up the steepest road to get there and it was absolutely amazing!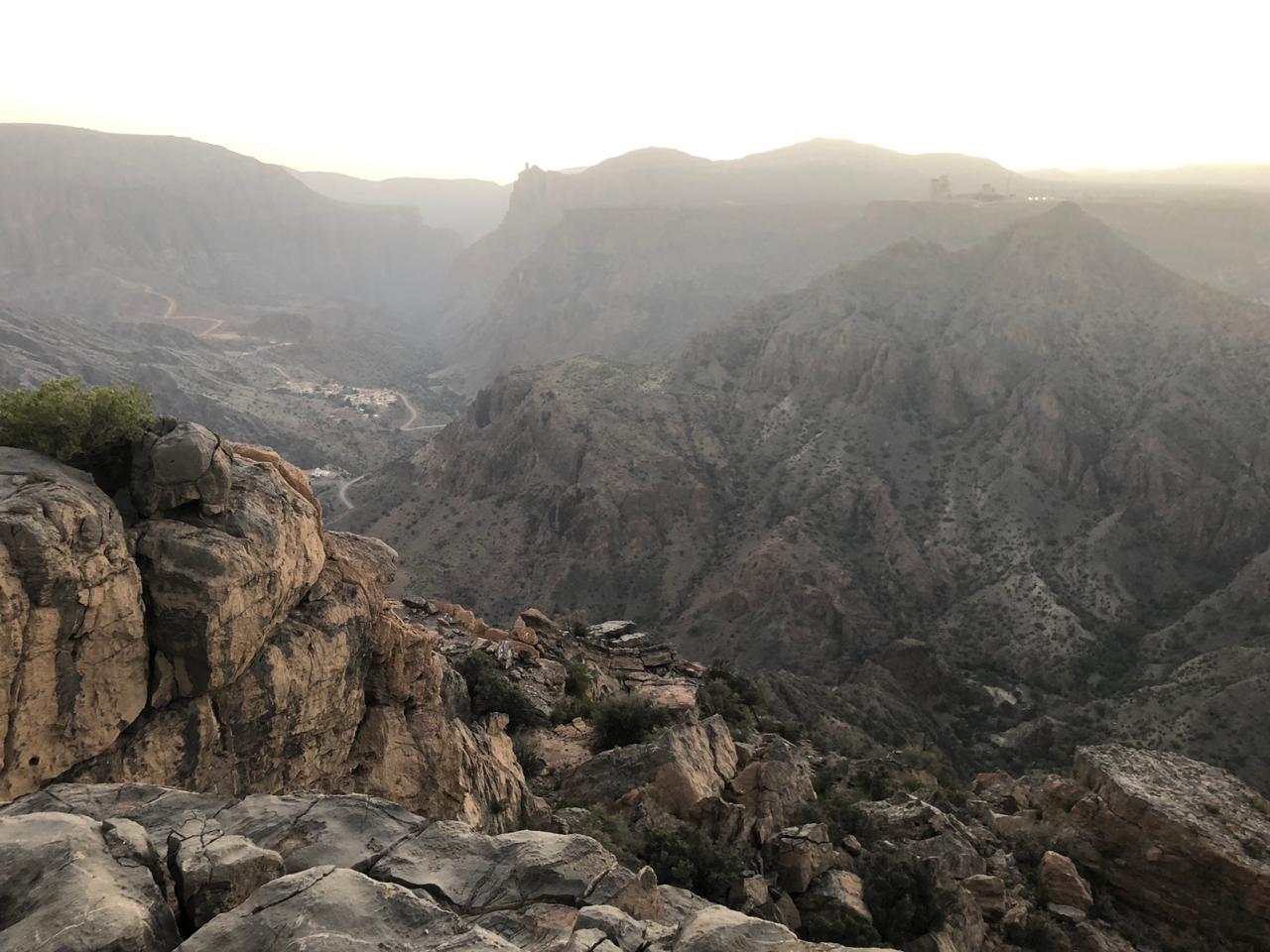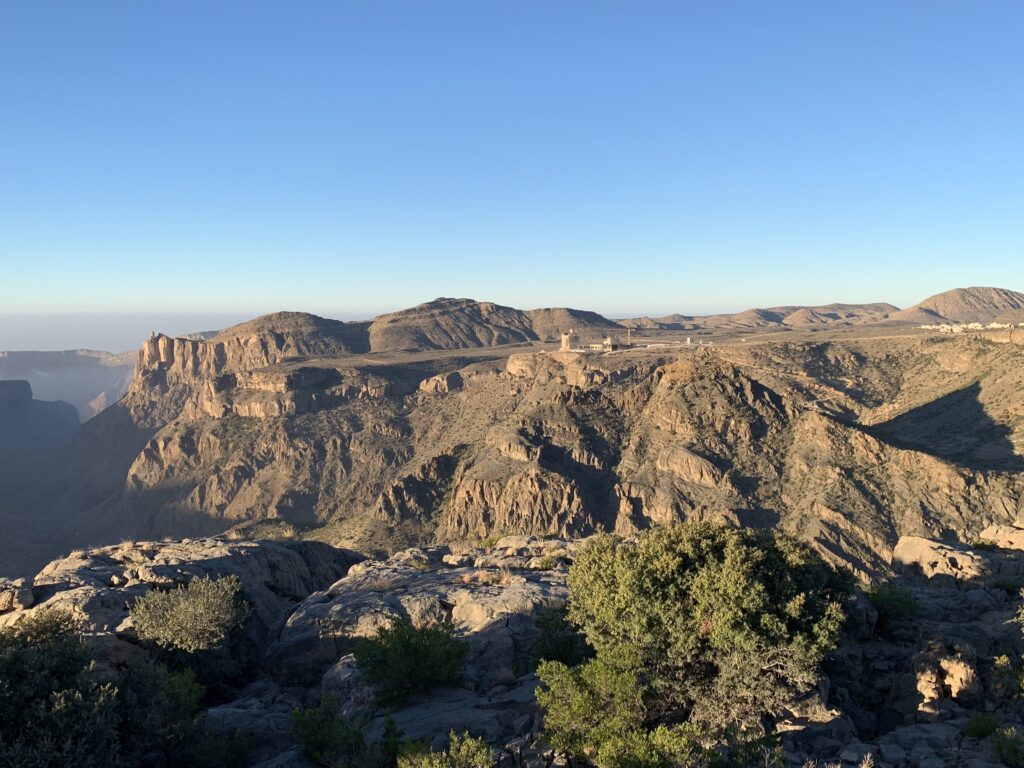 If the mountains weren't unbelievable enough, It was time to head to Dubai. Dubai is an amazingly modern and huge city in a country named the United Arab Emirates. It is almost indescribable, and if you are interested to do a google search because their pictures and descriptions are much better than mine.
Until the 1980s this place was a barren desert, but the vision of their leaders and massive amounts of money changed all that. We visited the biggest malls ever! Coming from NY you would think that a mall is a mall but when one has a full indoor ski resort in it, well, you have to check it out! We went to the 125th floor of the world's tallest building, it is actually 145 floors!  We saw properties that were built from pumping sand from the gulf and making huge islands. When you buy a home in Dubai the real estate brokers don't give you the keys and a bottle of champagne. They give you the keys and another set of keys for a car! That's right, depending on how much you spend it could be a Mini Cooper or a Lamborghini and there's no shortage of Lamborghinis! (or Bentley's, Rolls Royces…)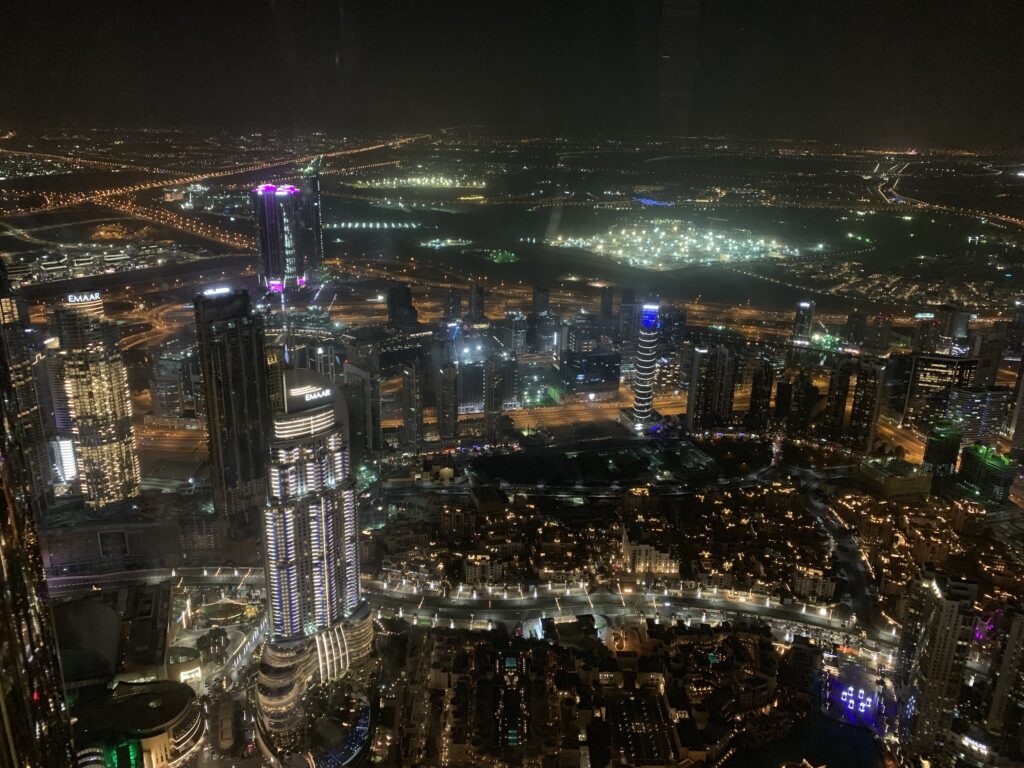 There are a few reasons for me sharing this with you and why I want to write about getting away from work periodically.
-In order to comfortably leave work for a week or more, you have to be part of a great crew. A crew that looks out for each other and fills in the gaps when someone is out. As an owner, you can relax knowing that you have a crew that does more than what is expected. It makes it that much easier to take time off and return to an orderly situation. 
Hats off to everyone at Pine Aire, Thank You!
-When someone offers you the opportunity to go on an adventure, go for it! Life goes by quickly and you may never get the chance again. This was a once in a lifetime adventure! A real adventure is when you do something that you would not think of doing on your own…
-Please, please, please do not form opinions of people or nations based on what you see on TV! It is usually not fair! At their core, people from all over the world are very very much the same. They are courteous and care about their fellow human beings. Thank you so much to Badar, the ultimate gentleman, his absolutely beautiful wife, his brother, cousins, and friends that traveled with us, the local people in the markets, hotels, and restaurants for showing us how amazing their country is!  Also special thanks to Musti! Mustafa is a friend of Badars who also shows people around the country for a living. He was the coolest, funniest and most informative guide you could ever ask for
Thanks again to Badar Mansoor of Badar Mansoor Trading Company, look him up, and our awesome crew. This trip was spectacular. If you have any interest in going, please let me know and I will provide details and who to contact.
So, if you haven't in a while, check your breaks.
Thank You!
Latest posts by Dave Bloom
(see all)